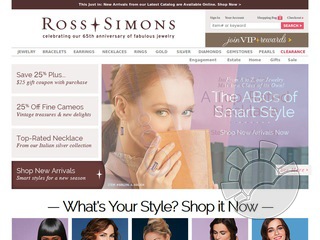 We currently have 1 Ross Simons coupon / deal.
About Ross Simons
Since 1952, Ross Simons has worked hard to guarantee the complete satisfaction of its customers. They aren't happy until you are! That is the key to their success. The first Ross-Simons retail store opened in Providence, Rhode Island in 1952. The mission was to provide exceptional quality jewelry and luxury items at the most affordable prices possible. The company quickly expanded as customers were made happy and so, the second and third stores opened in 1965 and 1975, and the first catalog was mailed in 1981. Today, the company is a thriving multi-channel retailer who still puts the customer first. The times may have changed, but the focus remains the same: a commitment to service and satisfaction, delivering the finest jewelry, tableware, collectibles and more at prices that can't be beat. They know that their success is due to loyal customers.
Read more...
When you're looking for fine jewelry, browsing the Ross-Simons.com site is easy. Shop by type of jewelry, such as bracelets, necklaces, earrings, pendants, rings, pins, and watches. You can also shop by metal type (i.e. gold or silver) or by gemstone type (i.e. diamonds, pearls, CZ, topaz, rubies, opals, onyx, emeralds, jade, etc.) They even let you browse by style, to find what you're looking for be it classic, contemporary, glamorous, trendy, or ecletic.
To score a deal at Ross Simons, dive right into the Clearance Department, or take a look at the Daily Deal or the Sale department.
Close