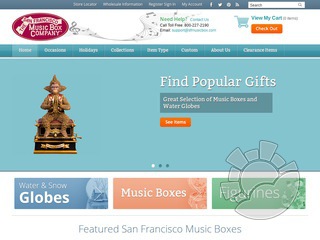 We currently have 1 San Francisco Music Box coupon / deal.
About San Francisco Music Box
Everybody is captivated by beautiful music boxes, and the San Francisco Music Box Company specializes in them. In fact, they have been selling music boxes for a long time now, ever since their first store opened way back in 1978! They sell a huge selection of more than 1000 musical gifts, and the great news is you can explore them online.
With so much to choose from, you can browse according to occasion (birthday, wedding, new baby, etc), holidays, new arrivals or best sellers. To narrow your selection down, you can also explore the many gift themes - Broadway Legends (Phantom of the Opera, Cats) and Hollywood Legends (Elvis, Gone with the Wind, Betty Boop, Wizard of Oz).
Read more...
An incredible range of items are available for you to discover in the favorite shops section of the SF Musicbox Company online store. There are so many shop categories, so for the purposes of this summary, here are a few: Ballerina/Dance, Disney, Boyds Bears, Friendship, Jewelry Boxes, Musical Instruments and Madame Alexander Dolls.
You will be amazed at the wide selection of music boxes, water globes, figurines, trinket boxes, clocks, jewelry boxes and dolls available here!
When you visit SanFranciscoMusicBox.com, make sure you check out the Sale Items section as well, because you're sure to find a great bargain there. Fast, affordable shipping is available within the US.
Close