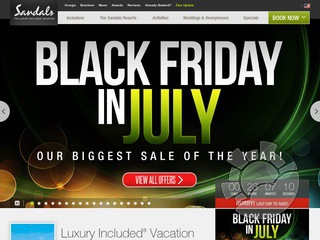 We currently have 3 Sandals Resorts coupons / deals.
About Sandals.com
Everyone knows the name Sandals. Family-owned Sandals Resorts International has transformed itself from one brand and one resort in Montego Bay, Jamaica to become one of the most well-known and award-winning hospitality companies in the world. It all started in 1981 and now, all these years later, we all associate the name with fun in the sun and relaxation. And that is just what they are all about.
Read more...
With five brands and 24 properties in seven countries including Antigua, The Bahamas, Grenada, Barbados, Jamaica, Saint Lucia and Turks and Caicos, Sandals Resorts International is the leader of Caribbean vacation experiences. No one else comes close. The company is fiercely committed to the region, dedicating itself to innovative resort development that in the words of Chairman and Founder Gordon "Butch" Stewart, "exceed expectations" for guests, associates and the people who call the Caribbean home. What more can you say? Their reputation proceeds them.
Close