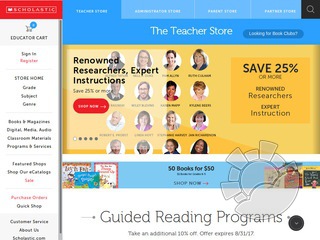 We currently have 2 Scholastic Store coupons / deals.
About Scholastic Books
This well known name in children's literature is online in a powerful way. Not only is Scholastic Books the biggest publisher of children's books on the planet but they continue to provide learning tools in a positive and fun environment for the enjoyment of kids as well as the education of them.
As well as providing parents, kids and teachers with great resources for kid's books, educational games and reviews of popular kid's books and authors, their website lets you have a look through featured reading material, the "super series" lists and even read up on what other children are reading. "What's New" section of www.scholastic.com takes you through the latest releases in children's literature and offers some great reads for kids of all ages, and "Rodent's Gazette" keeps kids in the know about their favorite characters with a cool little online newspaper updated by the resident journalistic rodent.
Read more...
Popular games like Captain Underpants and the Powerpuff Girls are available to play online for a trial period as well as to buy and download straight from the website. Major brand names like LeapFrog, Gund and JumpStart are all here and all online shopping is secure as well as enjoyable!
Close