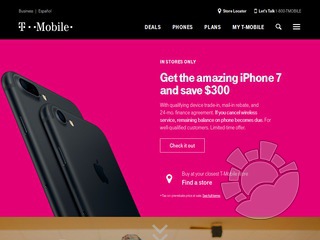 We currently have 3 T-Mobile coupons / deals.
About T-Mobile.com
T-Mobile is one of the nations leading wireless voice, messaging and data services available. They have plans covering a breadth of needs and prices, whether you need basic cell phone service or an entire wireless internet package.
From their website, you can browse and compare their variety of plans, choosing between a wide variety of monthly minutes, coverage areas, and whether or not you want to participate in their myFaves plan, which is a plan that allows you to share your minutes with family members.
Read more...
After you've selected the plan that fits you best, browse through their offering of dozens of the latest new cell phones, from picture phones to Bluetooth capable phones, to even the latest in cellular phones that combine data storage and MP3 music playback. Many times, when you combine a TMobile cell service with a phone purchase, you'll be able to save hundreds on a new phone, or even get one free.
Once you've joined T-Mobile.com, you'll also be able to access great extra services like ring tones in all the latest songs or old-time favorites, wallpaper that reflects your personality, and even games and web applications. And don't forget to pick up all the accessories your new phone needs, from wall and car chargers, to covers and headsets.
Close