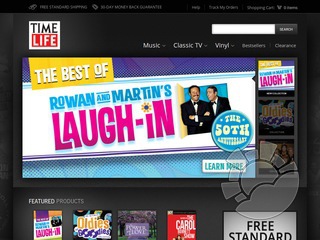 About TimeLife.com
Many of today's entertainment offerings are not only tired and derivative, but they pale in comparison to the popular music, films and figures of yesteryear. Luckily with Time Life, everyone can relive the golden age of television, the era when music mattered, and the historical figures and events that shaped America, all in the comfort of their own homes.
Assembling a truly expansive musical collection can be a time consuming task. Purchasing hundreds of songs can cost thousands of dollars, if you can even find, let alone recall, what you're looking for. Fortunately, TimeLife offers sensational compilations in dozen of musical genres. Shoppers can choose from individual titles to disc spanning collections including 1950s Malt Shop Memories, Classic Soft Rock, Superstars of Country, Classic Soul Ballads, Rock 'n' Roll: The Legendary Years, 70s Music Explosion, Classic Bluegrass, The Ultimate 80s, The Folk Years, Santana, Patsy Cline, Anne Murray and Disney's Greatest.
Read more...
The site has a tremendous offering of comedy & music, nostalgia TV, kids programming and historical videos on both VHS and DVD. Viewers young and old will delight in such classics as the Odd Couple, Get Smart, Saturday Night Live, Murder She Wrote, Country Legends Live and Clint Eastwood: Dirty Harry. History buffs will savor assorted Walter Cronkite and World War documentaries.
At www.timelife.com they also offer a vast selection of books on brilliant performers from the past century such as Elvis, Johnny Cash, Jerry Lee Lewis and Louis Armstrong. Other titles illustrate and edify subjects as diverse as baseball, prominent Black and Hispanic Americans, the civil war, Greek mythology, ancient Egypt, and the cultural revolution of the 1960s. The renowned home repair and improvement series will prove to be an asset to casual carpenters and burgeoning handymen alike.
Online ordering is simple, especially since all items are backed by a full refund satisfaction guarantee. Some items are offered in a convenient subscription format where customers receive a monthly selection and are only required to pay for the items they choose to keep.
Close