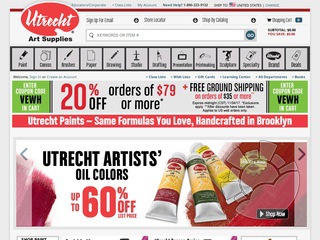 We currently have 2 Utrecht Art Supplies coupons / deals.
About UtrechtArt.com
Utrecht was founded in New York City in 1949 when artist Norman Gulamerian was unable to find quality artists' linen, so he began importing fine linen from Europe with his brother, Harold. Soon, they dedicated themselves to supplying artists with the highest-quality art materials for the best value. Today they offer those values to the world. Utrecht.com is your place to but paint brushes, canvases, paint, paper, drawing supplies, studio equipment, drafting supplies and more. Brands include American Decor, Artbin, Amsterdam, Bob Ross, Plaid, Rembrandt, Liquifex, Golden and more.