Vanns Coupons & Promo Codes
We collect all the Vanns coupon codes available and list them on this page. These can be used for free shipping, special discounts, or bonus deals on items like HDTVs, blu-ray players, home theater sound bars, video projectors, headphones, receivers, amplifiers, wireless speakers, subwoofers, car audio, digital cameras, action cameras, and camcorders. When it comes to consumer electronics, they have a wide select from top brands like Canon, Sony, Apple, LG, Panasonic, Samsung, GoPro, Bose, Onkyo, Denon, Monster Cable, and Klipsch. When there is a Vanns coupon code, enter it into the box in the shopping cart and click apply.
Related Categories
Electronics
Related Coupons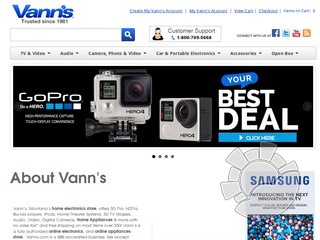 We currently have 2 Vanns coupons / deals.
About Vanns.com
Vann's is a chain of consumer electronics stores in Montana, and Vanns.com is their online store. The first retail store opened in 1961, while the online store followed in 1998. They sell televisions, home theater equipment, stereo systems, speakers, cameras, camcorders, car audio, portable electronics and accessories.
Buy items like LG smart HDTVs, Samsung 4K televisions, AudioQuest HDMI cables, Denon home theater receivers, Sony headphones, Yamaha outdoor speakers, Cambridge Audio surround sound speaker systems, GoPro action cameras, Canon DSLR cameras, JVC digital camcorders, Monster cables, and Energy subswoofers.
Read more...
At Vann's you can find a limited selection of computer products including computer systems, laptops, computer software, computer speakers, monitors and PDAs. They also offer a wide variety of electronics, home video and home audio products including camcorders, digital cameras, receivers, DVD players, VCRs, TiVo systems, Plasma TVs, televisions, CD players, home theater systems, amplifiers, speakers, telescopes, binoculars and more.
Close