Vistaprint Coupons & Promo Codes
We aim to provide the most comprehensive collection of Vistaprint coupons, special promotions, and discount claim codes on the Internet. This page is frequently updated with the latest Vistaprint coupons and promo codes, such as special offers for free business cards, free shipping, free stampers, free return address labels and other discounts for custom color printing services from Vistaprint.com. Check them out for any printing you may need: business cards, posters, calendars, postcards, checks, magnets, signs, labels, stickers, invitations, announcements, stationery, and promotional products.
For the most part, you simply need to click on an offer to activate it and receive the discount from this full color printer service. On occasions we list a Vistaprint coupon code with an offers, and that means you need to enter the claim code to redeem the discount.
Related Categories
Apparel
Business Supplies
Gifts & Flowers
Home
Men's Apparel
Office Supplies
Party Supplies
Personalized Gifts
School Supplies
Toys & Games
Weddings
Women's Apparel
Related Coupons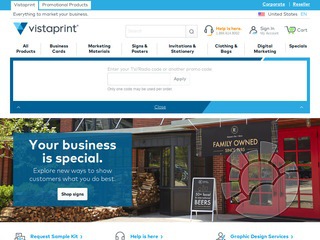 We currently have 5 Vistaprint coupons / deals.
About Vistaprint.com
Did you know there's a full-fledged custom print shop right on your computer? Just visit Vistaprint.com and start designing your own stationary, business cards, signs, t-shirts, mugs, novelty items, photo books, and anything else imaginable right from your web browser.
It couldn't be easier to tap into your creative potential and create impressive items for your home, family or business. All it takes is seconds to create t-shirts, Christmas cards, holiday labels, invitations, envelopes, thank you cards, luggage tags, tote bags, hoodies, hats, banners, bumper stickers, sticky notes, ornaments, notebooks, calendars, and posters.
Read more...
Promote your business or favorite cause with brochures, flyers, marketing post cards, lawn signs, letterheads, custom credit cards, labels, stickers, datasheets, and everything under the sun. The site is ready to guide you every step of the way 24 hours a day. Once you approve your creation, the finished professional-quality products will be shipped right to your door.
Cost-conscious customers will love free customizable items, including pens, car door magnets, rubber stamps, and checks. Upgrade to affordable premium products for added flair.
Vista Print also lets you create your own custom website and get your own toll free 800 number. Plus, with available web design, copywriting, and other marketing services available to business users, it's like having an entire award-winning ad agency at your disposal.
Vistaprint.com boasts of having the best printing services at the best prices and offers an easy design and print solution used by more than seven million people worldwide. You can order custom premium or personal business cards, which you can design and customize using one of 42 templates, or your can upload your own design. It takes just minutes to create a customized card in full color, which you can order in quantities as low as 250, and which you will receive in as few as three days. You can even use the website to design a free custom logo for your card.
Vistaprint also provides custom letterhead, stationary, envelopes, notecards, note pads and return address labels. Business can print specialized marketing and promotional items including brochures, folders, flyers, magnets, postcards and calendars. Additionally, find almost any kind of stamp: customized rubber and address stamps, general-purpose stamps, and date and signature stamps.
Custom business cards, letterhead, envelopes and stationary are common needs for most businesses. Whenever you need office supplies or other products needed by small businesses, turn to DailyeDeals. We compile the latest discount coupons and special promotions for sites like Vistaprint.com and many other popular online merchants.
Close