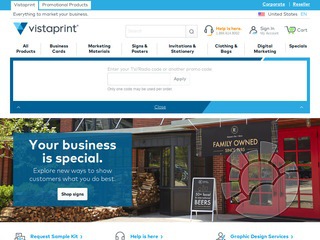 We currently have 17 Vistaprint coupons / deals including 12 promo codes. 1 is new and 1 recently expired.
About Vistaprint.com
Did you know there's a full-fledged custom print shop right on your computer? Just visit Vistaprint.com and start designing your own stationary, business cards, signs, t-shirts, mugs, novelty items, photo books, and anything else imaginable right from your web browser.
It couldn't be easier to tap into your creative potential and create impressive items for your home, family or business. All it takes is seconds to create t-shirts, Christmas cards, holiday labels, invitations, envelopes, thank you cards, luggage tags, tote bags, hoodies, hats, banners, bumper stickers, sticky notes, ornaments, notebooks, calendars, and posters.
Read more...
Promote your business or favorite cause with brochures, flyers, marketing post cards, lawn signs, letterheads, custom credit cards, labels, stickers, datasheets, and everything under the sun. The site is ready to guide you every step of the way 24 hours a day. Once you approve your creation, the finished professional-quality products will be shipped right to your door.
Cost-conscious customers will love free customizable items, including pens, car door magnets, rubber stamps, and checks. Upgrade to affordable premium products for added flair.
Vista Print also lets you create your own custom website and get your own toll free 800 number. Plus, with available web design, copywriting, and other marketing services available to business users, it's like having an entire award-winning ad agency at your disposal.
Close