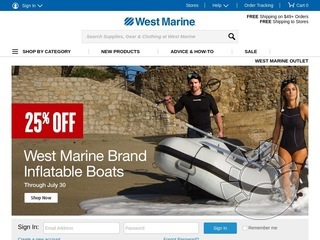 We currently have 5 West Marine coupons / deals.
About WestMarine.com
Do you like to boat, or know someone who loves to spend their weekends on the water? Than navigate to www.westmarine.com to get equipment for every boating enthusiast and water lover. It doesn't matter what kind of boat you have, from a dinghy to a sailboat to a 200 foot yacht, you can find all the gear for your boat in one shop.
If you want to buy books, videos, rope, water sports equipment, boat motors, boat trailers, fishing supplies, sailboat equipment, or anchors, you can definitely find it at WestMarine.
Read more...
Don't know what to get, or want to know how to buy the best? You don't have to worry, because WestMarine.com also offers articles that will give you the information that you need to learn more about life on the water. From what to take with you in your safety kit to how to anchor your boat for a night on the sea, you can learn about different topics all about boating at the West Advisor.
Another convenient feature you can find is the product assistant and comparison shopping tool. This will help you find the best product for your type of boat. Whatever you are looking for, it will help you. Select a category (for example, safety, electronics, plumbing, ventilation or fishing), answer a few questions related to what you are looking for, and presto, you've got some suitable recommendations on what gear you need. Another thing about this is that you compare the products side-by-side, so you can make an informed decision easier.
The next time you need something for yourself or a special sailor in your life, come to this major Internet boating supply store, to get all your supplies in one stop.
Close