Yahoo Small Business Coupons & Promo Codes
Use Yahoo Small Business and Yahoo Web Hosting to register your domain name, create your web page, get your site online, build traffic, convert customers and enhance your online presence. On this page we list discount coupon codes, special promotions and online deals that we have collected for Yahoo Small Business products and services, including domain name registration, website hosting and keyword advertising.
Some of these discount promotions have a promo code that must be entered in during the ordering process to trigger the discount.
Related Categories
Business Supplies
Internet Services
Web Hosting & Domains
Related Coupons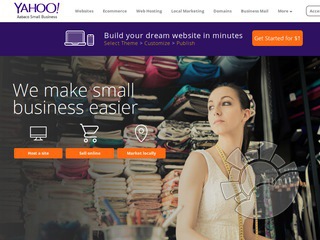 We currently have 8 Yahoo Small Business coupons / deals.
About Yahoo Small Business
Yahoo! Small Business, at smallbusiness.yahoo.com, furnishes the business person with internet access, business e-mail, web hosting, domains, merchant solutions, sponsored search, and a plethora of news and resources. Find thousands of how-to's on a single website, including business plan essentials, tips for new small businesses, crucial information on opening your own business, and scores of other articles and business tools. Whether you need help with the internet, marketing, hiring, or selling, this company will work to propel your small or home business forward.
Read more...
Get online through Yahoo Web Hosting by easily creating a professional web site while enjoying secure, reliable service. Reserve an exclusive web domain address through Yahoo.com as well. They provide merchants with solutions that equip them to sell their products online. They will help you conveniently create an ecommerce site through which you can sell online 24/7, and you will even receive 24-hour-a-day phone support. Market your website online by making use of the YahooSmallBusiness sponsored search. Through it, you can advertise your site in search results, connect with customers, and pay only when a potential customer clicks through your ad.
Yahoo's impressive suite of marketing tools are right at your fingertips. Attract customers to your area by enhancing your listing in Yahoo! Local with your logo and business description, or purchase top placement in Yahoo Local. They make it possible for businesses to submit their URLs for consideration to appear in algorithmic search results. Prominently feature your products in Yahoo.com Buyer's Guides, Product Search, or Yahoo Shopping. You can also speed up the submission of your website for inclusion in the Yahoo Directory.
They feature two useful direct marketing services as well. A monthly subscription to Campaigner by GOT grants you access to a world of effective, self-serve marketing tools that will allow you to get the word out about your business. Yahoos infoUSA equips you to unearth new customers and expand your business with sales leads and market listings.
Close