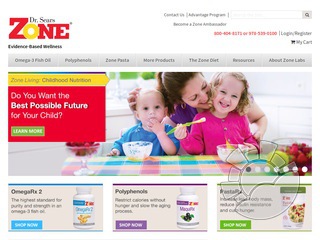 We currently have 1 Zone Diet coupon / deal.
About ZoneDiet.com
ZoneDiet.com is your source for anti-inflammatory nutrition since 1995. That is when Zone Labs was founded by Dr. Barry Sears, with the goal of developing dietary products based on his #1 New York Times bestselling Zone book to control diet-induced inflammation for a lifetime.
All these years later, Zone Labs is an industry leader in the development and sales of innovative, patented nutraceutical products. Zone Labs combines cutting-edge technology with the latest scientific research to develop a wide range of Evidence Based Wellness products. This includes foods, dietary supplements and a skin care line. zonediet.com has what you need to keep inflammation down and stay healthy. Every product adheres to Dr. Sears' research on the battle against inflammation, which is recognized as a primary factor in the development of a wide range of chronic illnesses. It is all about dedication. When you ask a question, Dr. Sears himself or a member of his staff will help you. You won't have to go it alone when selecting what is best for you. Dr. Sears has been featured on TV shows like 20/20, Today, Good Morning America, CBS Morning News, CNN, and MSNBC.
Read more...
Popular products on sale at Dr. Sears Zone include Omega-3 Fish Oil (essential building blocks for resolving diet-induced inflammation), Polyphenols (powerful gene-activating agents), Zone Pasta (PastaRx Performance Protein), Zone Bars (loaded with protein), Zone Breakfast (perfect balance of protein, complex carbohydrates and essential fats), as well as other supplemtns (like Protein Powder, Micronutrient Support, Weight Loss Support, Joint Support, Cardio Support, Cognitive Support, Bone Support, and Metabolic Digestive Support).
Close