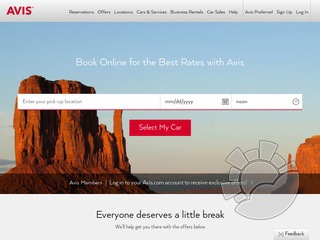 We currently have 5 Avis coupons / deals.
About Avis Car Rentals
When you go on vacation, you probably book your airline tickets and hotels in advance, but if you want to be a savvy traveler, you should book your rental car in advance as well. There are few better places to get all the information that you need, make a car rental reservation and take that final step in planning your vacation than at the Avis rent a car website.
If you haven't ever visited www.avis.com, you'll see how simple it is to reserve the type of car that you need. Avis.com offers vacationers (and those needing a car for the weekend to move, drive around or take a day trip) a lot of choices. You can reserve a roomy SUV or a gas efficient compact to take you around town. It's easy to reserve an automobile, and you can even get upgrades and extras, ensuring that you have everything you want in your car. Avis car rental offers drivers GPS systems, so you never get lost; car seats, to keep children safe and allow you to travel without bringing yours with you; extra insurance and more. Reserving your rental car is as simple as choosing your location, dates, type of car, what extras you want and entering some personal information.
Read more...
Renting a car means a lot of paperwork and a lot of fine print. When you go to Avis Rental's website, you can see all the fine print, which will allow you to be 100% clear about the details of your car rentals. Check out their rental guide and you can find information about rental locations, the cars and weather at the location you will be driving at.
There are over 2,000 Avis locations around the world, which means that you can find locations at many airports and within cities across the United States and abroad. When you are traveling, it's always nice to rent your car from a company that you can trust.
Close