Blockbuster Closed
In 2011 Dish Network bought Blockbuster Video. Due to intense competition from companies like Netflix, Dish closed the Blockbuster By Mail service at the end of 2013 and the remaining non-franchise stores in the beginning of 2014. However, you can still make it a "Blockbuster Night" with Dish. For current deals, please see our Dish TV Coupons and Netflix Codes. For promo codes for related stores and services, use our Movie Coupons.
Blockbuster Coupons & Promo Codes
There are no Blockbuster coupons available at this time.
Related Categories
Movies & Music
Related Coupons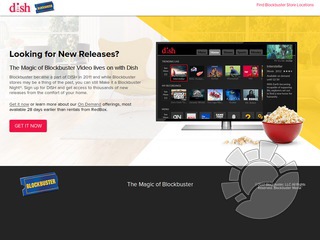 About Blockbuster Video
Blockbuster, the megalith video rental company, takes movie rental to the next level, offering an online DVD rental service, movie finder, movie ratings, and recommendations based on your personal tastes.
Blockbuster's online rental program, Total Access, allows subscribers to choose from several different packages and pricing. You can select your movies at their site and this online DVD rental service will ship them directly to your door. Best of all, there are no due dates, no rental fees (other than your monthly subscription fees), and absolutely free shipping on all of your movie rental choices. This rental service even includes Blu-Ray and HD-DVD discs for those that want high definition.
Read more...
In addition, Blockbuster.com sells thousands of movies and games, if purchasing is your preferred option. As you browse through the extensive movie titles, you'll see ratings and reviews by customers all over the country.
They offer all of the genres you could dream of: comedy, thriller, horror, action, family, you name it. The site also boasts several great categories like "top online rentals" and "award winners" to help you make your entertainment decision a snap.
And if finding a physical store to rent from is more up your alley, www.blockbuster.com has a handy store finder tool, which shows hours of operation of all of your local Block buster stores.
Close