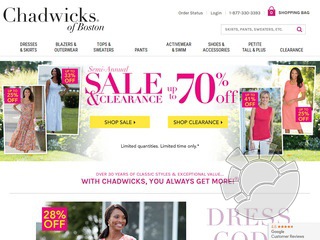 We currently have 2 Chadwicks.com coupons / deals.
About Chadwicks of Boston
Chadwick's of Boston has stupendously low prices for fantastic clothing and accessories for women make this a favorite spot for online clothes shopping.
Coats, dresses, tops, pants, dress shoes, casual shoes, boots, jewelry, jackets, shirts, skirts, hosiery, jeans and so very much more means you will most certainly find more than you came for at www.chadwicks.com. Search by fashion type like suits, swimwear, outerwear, sweaters or shop by special sizes or even by price. A remarkable selection of fashionable styles under $20 make this a real online find for filling the gaps in any wardrobe as well as stocking up on some staple items that will keep you looking fresh and with it.
Read more...
In-season sales, daily specials and special occasion items along with the ChadwicksofBoston gift finding tool make for a very exciting online shopping trip here. Be sure to check out the clearance section for some even more exciting prices and you won't want to miss the real comfort section for some classic styles that are purely snuggle worthy. With a relaxed hoodie or a buttoned cardigan for those more casual days, or a sequined dress jacket for more formal events, this clothes catalog store has a wide range of comfortable and feminine clothing as well as shoes and boots to round off any wardrobe.
Style for her in fun and affordable clothes are what this online shopping spot has in abundance.
As an extension of the Cahdwick's of Boston catalog service, this online store provides women's fashion clothing, shoes and accessories at competitive prices. Their extensive range of tops, sweaters, pants, skirts and dresses is complemented by jackets, blazers and outerwear. To match more formal occasions, they offer suits and coordinated sets. The clothing range even extends to intimates and shapewear, sleepwear and swimwear. Dress shoes, casual shoes, boots, sandals and sneakers make up their quality footwear offerings and a range of fine jewellery and accessories includes belts, bags and pashminas. They pride themselves in their clothing collections tailored to fit petite, tall and full-figured women.
Major categories of the Chadwicks.com site include: Accessories, Bridal, Gift Certificates, Jackets and Coats, Pants and Skirts, Petites, Plus Sizes, Sets, Shoes, and Tops.
Close