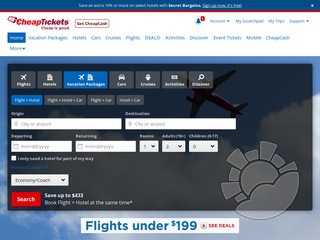 We currently have 1 Cheap Tickets coupon / deal.
About Cheap Tickets
For every travel planning detail, this site has it all including car rentals, airfare, hotel reservations, cruises, activities and more. With www.cheaptickets.com you will be on your way in no time with the best deals in flights, rental cars and hotel accommodations. Everyone deserves the luxury of easily booked trips that save money at the same time!
You will find all the options you need to make your choice in holidays by searching the most up to date offerings for cruises, last minute trips and vacation packages. A huge number of vacationers prefer the ease of selecting pre-packaged travel to reduce the hassle of planning on their own and if you are that type of traveler, just get online at CheapTickets and get booking.
Read more...
For those who prefer to set their own agenda, separate flights, hotels and activities can be found here to suit every individual travel need. Book a hotel, car, airline flight or reserve any number of package holidays online with this easy cheap flight service. You can also search and book tickets, flights and accommodation to special events all over the world. This discount travel site lets you pick and choose your own holiday and travel arrangements to better suit your needs and cut down on costs.
Be sure to check out the sales and the places of interest here as well for lots of ideas that will set your imagination racing ahead to what is sure to be your best laid travel plans ever.
Check out prime destinations like Las Vegas, Cancun and Miami or look for something a little more remote. It's your choice because it is YOUR holiday! Your holiday should be a relaxing time. Booking your holiday should be stress free, and with this online travel agency, easy hotel bookings and other travel arrangements can be sorted out simply.
Don't overpay for tickets ever again. CheapTickets.com sells discounted tickets for travel covering airfares on hundreds of airlines. You can also find cheap hotels, cheap cruises, cheap rental cars, cheap vacation packages, vacation rentals, last-minute trips and event tickets. They are your ticket to saving money. They also offer the CheapCash loyalty program, where you can earn rewards toward hotels when booking flights through the website or mobile apps. The company was founded in 1986 and is owned by Expedia, Inc., one of the world's leading travel companies. They know travel and now you know cheap travel. Use the money you save to enjoy your trip more.
Close