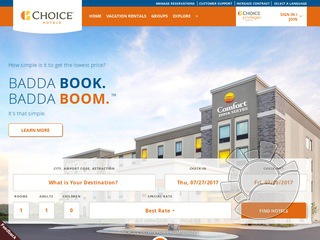 We currently have 4 Comfort Suites coupons / deals.
About Comfort Suite Hotel
If going on vacation is supposed to be relaxing, then why can finding a hotel be so stressful? When you want to eliminate this travel stress, visit ComfortSuites.com to plan the accommodations for your next holiday, vacation, business trip or family getaway.
Comfort Suites belongs to the Choice Hotels brand, which includes several other well known hotel chains, including Econo Lodge, Comfort Inn, Sleep Inn and Quality Inn. Because they are a part of a well known hotel conglomerate, you know that the service is going to be excellent.
Read more...
What is really exciting about ComfortSuites in the United States is that all of the rooms and the entire interior of the hotel is 100% smoke free. This makes it a great hotel to bring your whole family to.
Another great reason to book at the this hotel suite is the complementary "Savory Starts" breakfast. This isn't your typical hotel breakfast of coffee and a bagel. This tasty start to your day includes waffles, eggs, fruit and more.
Booking your room online is easy and fast. You can book a room around the country and even international destinations. Just enter the city and the date, and you will be given the information. If you want to stay near the airport, a tourist site or along a certain route on the Interstate you can search for hotels matching these criteria. It's simple to find great rates at a great hotel.
Another thing that you can find on the www.comfortsuites.com website is a list of the pet friendly hotels. If you are a regular in traveling with Fido or Felix, you know that finding a hotel that will accommodate them can be difficult to find. This is a great resource and makes traveling easier.
Worried about finding a better deal somewhere else? You don't have to, because if you find a better rate anywhere on the Internet, www.comfortsuites.com will match the rate, and then give you an additional 10% off. This is just the level of service that you can always expect when staying at a Comfort Suite Hotel.
Close