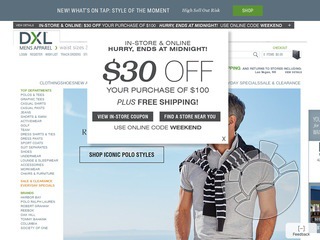 About DXL Destination XL
Destination XL (also known shorthand as DXL) is a unique superstore that offers one of the most extensive assortments of XL men's clothing and shoes available anywhere. It is designed to make the shopping experience more convenient and enjoyable for customers. DestinationXL.com offers thousands of styles in the widest range of sizes, everything from value-priced private labels to high-end designer names. You will find it all here. Trusted brand-name favorites include Polo Ralph Lauren, Lacoste, Reebok, Levi's, Cutter & Buck, and Nautica. Then there is the luxury of world-class designers like Michael Kors, Jack Victor, True Religion, Lucky Jeans, Robert Graham, and Cole Haan. And private label brands like Oak Hill, Harbor Bay, Synrgy, True Nation, and Gold Series.
Read more...
If you want to talk exclusives, DXL is the ONLY retailer that carries designer clothing from Brooks Brothers, Lacoste, Michael Kors, Reebok and True Religion in YOUR size! They also have Lucky Brand Jeans in exclusive washes you won't find anywhere else. So you have every reason to shop here. They have what you need.
This company also operates the Rochester Big & Tall, Casual Male XL, and LivingXL stores.
Close