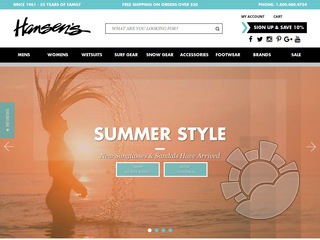 We currently have 3 Hansen Surfboards coupons / deals including 1 promo code.
About HansenSurf.com
Hansen began in Redfield, South Dakota, where Don Hansen attended classes at The University of South Dakota in the late 1950's. Don learned about wave sliding via classic surf films by two brothers who were attending USD from Southern California. So Don headed to Coronado, where he would live the surf lifestyle and soon enough, surfboard manufacturing entered his life. Eventually he found himself in Santa Cruz, CA where he apprenticed under surfing legend Jack O'Neill. It all lead to an amazing business. Today HansenSurf.com sells men's and women's surfing gear, wetsuits, footwear, accessories and more from brands like Billabong, carve, Freestyle, goPro, Sharkbanz and more.