Elisabeth by Liz Claiborne Closed
Liz Claiborne used to have the Elisabeth brand that had it's own online store at Elisabeth.com. That is closed, and parent company Kate Spade even shut down the Liz Claiborne online store at LizClaiborne.com. Now Liz Claiborne clothing is only available at JC Penney and Liz Claiborne New York apparel is exclusively at QVC. Use the DailyeDeals.com JC Penney Coupons, QVC Coupons, and Kate Spade Coupons pages for the latest discount promo codes for JCPenney.com, QVC.com, and KateSpade.com.
Elisabeth by Liz Claiborne Coupons & Promo Codes
There are no Elisabeth by Liz Claiborne coupons available at this time.
Related Categories
Apparel
Apparel Accessories
Plus Size Apparel
Women's Apparel
Related Coupons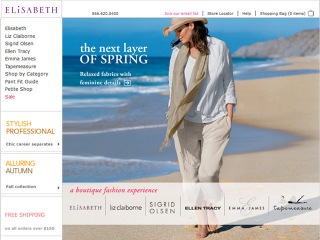 About Elisabeth Clothing
At Elisabeth.com, you can purchase the most sophisticated womens-sized clothing the web has to offer. First established as a sub-brand through Liz Claiborne, Elisabeth has become one of the most noted names in career-fashion for women. Clothing from this brand is offered in sizing starting at 14 and going up to 24, and they make their signature styles available in petite women sizes, as well.
Through the business-oriented looks that this clothing brand has to offer, the website has grown to include other notable names to their "boutique" online shopping experience. The artful whimsy of Sigrid Olsen, the relaxed and comfortable Ellen Tracy, the elegant Emma James, and the active and lifestyle wear of Liz Claiborne are all available through the www.elisabeth.com site.
Read more...
Given the variety these talented designers bring to the table, at www.Elisabeth.com, you can purchase casual and formal dresses, resort wear, daily relaxed wear, jeans, sweaters, pants, t-shirts, skirts, suits, and much, much more.
In addition, this online clothing shop sells top-quality, fashionable hosiery and socks, as well as trendy and classic outerwear. If you're looking for true, premium fashion in women's and petite women's sizes, Elisabeth.com is the place to shop.
Be sure to check out Elisabeth's great sale selections, as well, for incredible savings on items like dress pants, sweaters and cardigans, shorts and activewear, jeans, and even business wear.
Close