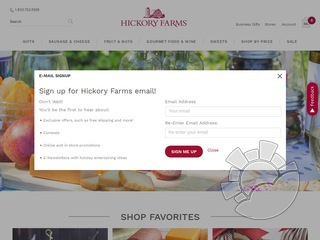 We currently have 2 Hickory Farms coupons / deals.
About Hickory Farms
For over half a century, Hickory Farms has been the place people go to find the perfect gift baskets for loved ones, coworkers and clients. They specialize in gourmet cheeses, summer sausages, meats, fruits, desserts and much, much more.
At www.hickoryfarms.com, they highlight all that's best in their gourmet offerings for budgets of any types. Choose between meat baskets of beef sausage, beef jerky, turkey sausage and more. For the cheese lover, check out their variety of cheeses in flavors like sharp, hot pepper, smoky, and garlic and herbs. Or, get a variety basket including cheese, meats, crackers, mustard and other delicious spreads.
Read more...
You can also find delectable fresh fruit in a variety of gift boxes and towers. Imagine sending a loved one a fruitful tower of delicious pears, apples and chocolates. They always have just the right gift for just the right occasion, whether it's the holidays, Valentine's day, a birthday or any special occasion.
Don't forget to check out HickoryFarms monumental selection of gourmet desserts—like baklava, cheesecake, truffles and spumoni—as well as their offering of several different kinds of delicious nuts and sweets. They also sell meat in a variety of cuts and kinds—from gourmet hams, to prime cuts of steak, and even turkey, seafood, and lamb.
Hickory Farms has been a tradition in holiday gift giving. Tasteful gifts of their award-winning beef stick summer sausages, delectable cheeses, meats, desserts and coffees that are easy to give - and always delicious to receive. When you order from them, you can be sure your gift will be abundantly packed with high quality food products, and attractively presented to delight and please your gift recipient.
Close