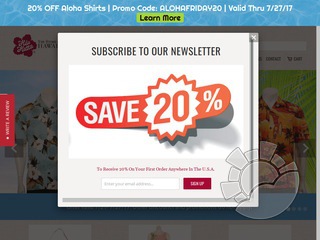 We currently have 1 Hilo Hattie coupon / deal.
About HiloHattie.com
When it comes to all things Hawaiian, there is only one store off and offline that many people know. It's Hilo Hatties. The country's largest Hawaiian lifestyle retailer was established in 1963, and just wait until you see what's in store for you here.
There are a range of exciting departments for you to enjoy here: Gifts of Aloha, Women's Fashions, Men's Fashions, Children's Fashions, Island Living, The Wedding Collection, Taste of Paradise, Books & Media and Family Matching.
Read more...
You will be amazed at the huge selection of souvenirs, stationery, fresh leis, gift baskets, tikis, silk leis, t-shirts, dresses, muu muus, Aloha shirts, footwear, accessories, chocolates, coffee, tea, fruit, fabric (including Spruce Topa, Blue Hawaii and Hibiscus Pareo Navy), cookbooks, wedding clothing and home decor.
A range of well known brands are also carried in the HiloHattie store, including the Iolani Sportswear Collections, Island Plantations, Aloha Sunset, Hawaiian Summer Teas and Kim Taylor Reece.
Fast and reliable international and national delivery is available from www.hilohattie.com. Corporate orders are welcome, and your gift giving is made simple with the Gift Certificates, starting from just $20. For the latest news and exclusive promotions, visit this website often to see what's new. For discount savings check out the clearance section.
Close