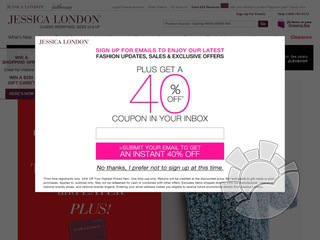 We currently have 2 Jessica London coupons / deals.
About Jessica London
Every woman wants to look her best, and there is a terrific online clothing shop that caters to women wearing sizes 14W to 34W. This website is JessicaLondon.com, and is where the classiest, trendiest apparel for women can be purchased.
One problem that women have when shopping for clothing is finding something that looks great and at the same time fits well. At Jessica London, women can shop for shoes, sweaters, trousers, swimwear, special occasion clothing, and casual wear. Plus size women traditionally haven't had very many choices when they go shopping at regular department stores, but now they can have a huge variety in fashion styles. What's even more spectacular is that JessicaLondon.com offers both petite and tall clothing, meaning that it doesn't matter what size or shape you are, you'll be able to find something to wear to work, the office, a wedding or on a night out on the town.
Read more...
This online apparel shop has been in business for over 10 years, and offers women the chance to find clothing that flatters their figures. If you are unsure about styles, cuts or fabrics, check out their fashion glossary, which will explain some of the terms that are used on their website and in their catalog.
Shopping online for apparel is sometimes a bit complicated, because you never know what size is going to fit you, and whether or not the clothing runs big or small. The sizes at www.jessicalandon.com are easy to figure out, and once you determine what size you are using the sizing charts, you'll never have to guess what size to order again.
Never again will plus size women think that they don't have fashionable, affordable options when they are getting dressed each and every morning. This plus size clothing store not only has the hottest trends in fashion but also clothing that real women can afford and will enjoy wearing.
Close