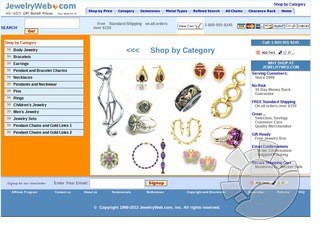 We currently have 2 Jewelry Web coupons / deals.
About JewelryWeb.com
If you think that buying jewelry online is too difficult, your mind will definitely be changed after you visit www.jewelryweb.com, which offers jewelry at 40%-60% off of retail prices. It doesn't matter if you are looking for earrings, rings, bracelets necklaces, charms, chains or bands, you can find the latest arrivals and even clearance pieces that are heavily reduced.
Searching for whatever you are looking for is easy, and there are several ways to find exactly the piece of jewelry that you had in mind. If you are on a tight budget, you can search for jewelry based on its price, which will still leave you with plenty of choices. Once you choose the type of jewelry that you are looking for, whether it's a ring or a pendant, you can narrow down your search by choosing the type of gemstone or metal that it is made from, the size of the stone or the length of the chain and by choosing a specific trend. You can easily match your existing jewelry or find a totally new style to complement your wardrobe.
Read more...
Getting your jewelry home is easy when you buy from JewelryWeb. If your total is over the minimum requirement, you will enjoy free shipping and handling, which makes the deals on the website an absolute steal. If you get your jewelry home and decide that it doesn't suit your style, you can return it within 30 days, so there is absolutely no risk. Another great advantage to shopping at this online shop is that every piece they sell is covered by a two year warranty. If a gemstone ever falls out, just send it back, and they will replace it free of charge. There are very few stores that offer that kind of service with such competitive prices.
Shopping at JewelryWeb.com makes buying jewelry an easy and risk-free decision. The only problem is that you will find too many things that you like and have to choose which ones to buy now and what to buy later.
Close