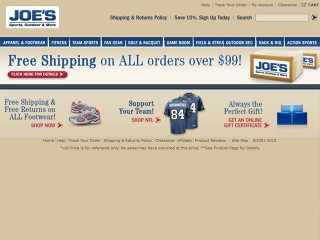 About GI Joes
Now called Joe's Sports, GI Joes got started after World War II, by a veteran who returned home from the fighting, and the name stayed with the company until recently. G.I. Joe's offers everything for an athletic and outdoor lifestyle.
Offering high quality products in categories like: apparel, fan shop, exercise, fitness, basketball, ice hockey, hiking, games or fishing, you can be certain you will be able to find something that interests you no matter what the weather is like. Finding the perfect gift for someone you love is also easy at G I Joes. Just go to the gift center, and it will give you fantastic recommendations on what gifts to give someone. You can narrow down your search by choosing based on price, or whether it's for a man, woman or child. If you don't know what to get someone with an active lifestyle, the JoesSports.com gift finder will definitely help.
Read more...
The best brands also trust www.gijoes.com to sell their products. Nikon, Igloo, Eureka, Columbia, Huffy, Kelty, and Body Glover are just of the few of the hundreds of brand names on offer. You won't be disappointed with the goods that you buy from this Internet sporting and outdoor goods store.
The next time you need something related to sports and the outdoors, whether you like camping in the mountains, fishing in the rivers, playing a team sport, or working up a sweat in your living room, go to www.joessports.com, and find exactly what you are looking for.
Close