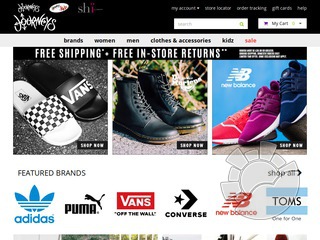 About Journeys Shoes
Are you looking for the trendiest shoes and accessories for teens and young adults? If you are, head over to www.journeys.com. Here you can find all the best shoes and accessories that will keep your wardrobe fresh and exciting.
Brands that are well-known for their quality are sold at this Internet shoe and accessories store. Dr. Martens, Crocs, Converse, Nike, Puma, Vans, Ugg, New Balance, Keds, Birkenstocks and Clarks are just a few of the brands that are offered for sale. Choose your shoes based on where you are going to wear them. It doesn't matter what type of shoes, from sneakers to dress shoes and everything in between, you can buy just about whatever you want here.
Read more...
Cool accessories will also freshen up a wardrobe that is a bit out of date. Belts and bags, shirts and hats, socks, wallets and watches are going to make you look like you are part of the in-crowd.
If you want to give a gift to your teenager or young adult, you can purchase them gift cards from Journeys Shoes, and they can pick out what they want themselves. This is a nice gift to give (and get), because the recipient can choose something the fits their own personal style.
If you are looking for fresh and young footwear and accessories, check out the selection at Journey's. You'll definitely be able to find whatever you need to update your wardrobe.
Close