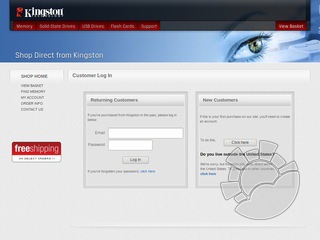 We currently have 3 Kingston coupons / deals.
About Kingston.com
Today's computers and digital devices can perform fantastic functions that seemed impossible only a decade ago, at least outside the bounds of science fiction programs. Unfortunately, even the latest PCs and gadgets often fail to ship with adequate memory to operate optimally. Luckily, most devices are easily expandable.
Kingston Technology Company has not only been a worldwide leader in memory manufacturing since 1987, but they sell computer memory products at a discount directly to customers online at shop.kingston.com. The store stocks both high performance branded memory for today's leading computers, including Apple, Dell, Gateway, HP, Toshiba and Sony brands, and countless types of Value-RAM generic memory, such as SIMM, DIMM, SO DIMM, MicroDIMM, RIMM and SO-RIMM, for servers, notebooks and desktop PCs. High performance HyperX memory chips, specifically engineered for today's latest computers operating at higher speeds, are also available in both DDR and DDR2 configurations,
Read more...
Many PDAs, digital cameras, cell phones and MP3 players are expandable. Kingston stocks a wide selection of flash memory in both Compact Flash and Secure Digital formats. USB flash drives, media readers and multimedia cards are also offered for added storage needs.
Kingston Memory also helps users expand the speed and capacities of their printers with compatible memory for Brother, Canon, Epson, Hewlett-Packard, Lexmark, Samsung and Xerox laser printers.
A simple memory finder tool displays the correct memory configuration for thousands of recent and vintage computers and digital devices, ensuring that customers will always be able to locate the correct products, which are all fully guaranteed. Installation is simple using the online tutorial.
Close