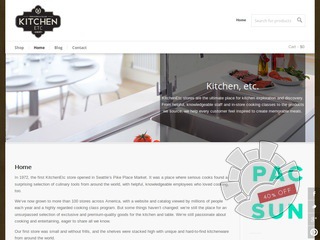 We currently have 2 KitchenEtc.com coupons / deals.
About Kitchen Etc
Cooks, bakers, grillers and those who want to learn more about food should visit the KitchenEtc website. Here, you can find everything you need for your kitchen, dining room, bar, and outdoor grilling area to make yourself a better cook (or at least a cook that has better gear).
What you'll like about www.kitchenetc.com is that you can find everything that you need in one place. There are very few stores where you can buy cookware sets, pot racks, hot chocolate mixes, small electrics, food storage containers, grilling accessories, outdoor lighting, tableware and cutlery, pans to make cookies or quiches, bar glasses in the perfect shape to complement the drink, knife blocks, and handy tools to make a job faster.
Read more...
The customer service at Kitchen Etc. achieves the exceptional quality you demand. There is a 100% money back guarantee on any of the products you purchase, so there is no risk when you order. Orders are also shipped out really fast, so you won't have to wait a long time to get cooking.
You can find brands that you already have in your kitchen and recognize including Cuisinart, Pyrex, Rowenta, NordicWare, All-Clad, Mikasa, Le Creuset, Oster, Breadman, Hamilton Beach, Krups and DeLonghi.
When you are looking for something particular, it is easy to find. Just type in the keyword, for example "blender", and you will be given all the products in the store that match that description. Maybe you just want to browse. At KitchenEtc, you can browse by category or find items that have been reduced in price in their outlet section.
This cookware store offers all the kitchen and dining room supplies that you need to make a meal, and then make it look beautiful. Everything at this online shop is in one place, making it easy to find what you need. If you need further help finding a product, their customer service is always willing to help, giving you solutions or alternatives if necessary.
Kitchen Etc has a complete selection of every kitchen item including dinnerware, china, crystal, glassware, flatware, cookware, bakeware, serveware, cutlery, electric appliances, gadgets, storage containers, gifts, food, and furniture. They also offer bridal and gift registries. KitchenEtc.com has prompt shipping and a complete satisfaction guarantee.
Close