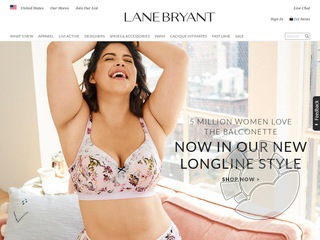 We currently have 3 Lane Bryant coupons / deals.
About LaneBryant.com
By far the world's leader in cutting edge plus-size fashion, LaneBryant.com should be your first stop in your online clothes shopping experience for sizes between 12 and 32. LaneBryant sells affordable clothing with an emphasis on the latest trends, giving women of all sizes opportunity to participate in styles you see straight from fashion magazines.
From their website, you can search through a wide variety of clothing including tops, t-shirts, sweaters, jeans, pants, skirts, dresses, you name it. And www.LaneBryant.com is also a fabulous place to find the coziest, warmest, and best-fitting coats and outerwear for the winter months. They also specialize in fabulous, form-flattering swimwear and coverups for your trip to the pool or beach.
Read more...
This plus size clothing company is the maker of the Cacique line of intimates, adorning bodies with beautiful lingerie and day-to-day undergarments in sizes 12-32. It features comfy bras, panties, shapewear, camisoles, and sleepwear.
While you're browsing www.lanebryant.com, be sure to check out their everyday tremendous specials and sales, where you'll find sales well below even their affordable retail pricing. And if you have any questions whatsoever about the fit, make, or quality of your order, this apparel store has an exhaustive customer service section, which makes sure you get exactly what you want and need.
As one of the foremost names in plus size clothing, LaneBryant offers a phenomenal range of fashion clothing through this online store. Tops come in up-to-the-minute designs and you can choose from tunics, camis, knit tops, sweaters, shrugs and jackets. Pants, jeans, gouchos and crops only scratch the surface of the "bottoms" on sale. The selection goes on to outerwear, active wear and swimwear; there's even a bridal boutique in the "dresses" section. An "intimates" department provides incredible color and choice and accessories; everything from shoes and belts to handbags and jewelry, completes this comprehensive website. In addition there are always sale items available.
Shop major categories like Accessories, Plus Size Intimate Apparel, Plus Size Jeans, Plus Size Suits and Career Apparel, and Swimwear Collection at the LaneBryant.com online store.
Close