MemorySuppliers.com Coupons & Promo Codes
Save on custom branded USB flash drives with these Memory Suppliers promo codes. MemorySuppliers.com is a leader in custom USB flash drives and portable chargers. Choose between many different styles and they will imprint them with your custom logo for promotional purposes. They 100% guarantee on-time delivery and claim a lowest price guarantee as well. To use these offers, just click on the link below. When we include a Memory Suppliers coupon code with the listing, you'll need to enter it on their site to activate.
Related Categories
Computers
Related Coupons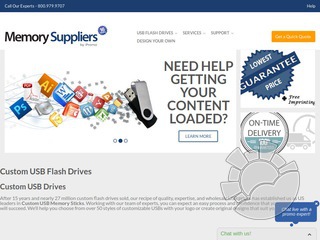 We currently have 1 MemorySuppliers.com coupon / deal.
About Memory Suppliers
MemorySuppliers.com offers computer memory upgrades, flash cards and other technology products. Get Digital Flash Cards in all the popular formats including Secure Digital, Compact Flash, Memory Stick, Micro SD, Mini SD, XD Picture Cards, Smart Media, MMC Cards and RS-MMC.
They make it easy to shop for laptop and desktop computer memory by brand, with brands like Dell, Intel, Compaq, HP, Toshiba, Gateway, eMachines, IBM, Apple and Sony. You can also shop for flash cards for digital cameras and other electronic devices by brand such as Olympus, HP, Sony, Canon and Nikon.
Read more...
At MemorySuppliers you can also shop for other technology products like USB flash drives (even custom imprinted with your logo), hard drives, mp3 players, HP network print servers, laptop batteries, notebook battery chargers, Bluetooth headsets and Garmin GPS units.
Close