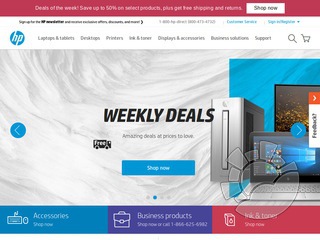 We currently have 1 HP Store coupon / deal.
About HP.com
Hewlett Packard has been a technological leader since the 1930s. In the 21st century, HP offers innovative computers, gadgets and digital devices that are not only impressive independently, but work in unison to foster a fluid digital experience. Customers can purchase the complete catalog direct from the manufacturer.
The tremendous selections of laptop and desktop computers are available in a variety of configurations—including high performance, multimedia-entertainment, everyday, travel and Vodoo gaming—each engineered for particular uses. Customers can furnish their digital devices with digital storage solutions, personal media drives and Lightscribe enhanced DVD writers. iPaq Pocket PCs provide wireless computing and entertainment in the palm of your hand. The stylish Zune digital media device rivals the iPod as a video and MP3 player. Students, scientists and financial analysts can continue to rely on renowned HP calculators.
Read more...
For added savings, a featured outlet store stocks refurbished, closeout and overstocked products. Shipping is free with a small minimum order.
Available digital entertainment centers merge the computing and home theater experience by integrating high definition audio, progressive scan DVD playback, wireless networking, huge storage and a PVR into a state of the art Intel PC that is much greater than the sum of its parts. Award winning LCD and plasma HDTVs provide exceptional performance at an affordable price.
Shopping.hp.com offers Hewlett Packard printers optimized for a variety uses and in every price range, including renowned all-in-ones, laser printers and inkjets for the home and office. With a wide range of compact Photosmart camera, photo inkjet printers and optical scanners, HP.com will meet the needs of fledgling and seasoned photographers alike. Users can even print and share photographs online using the onsite Snapfish Digital Photography Center.
Close