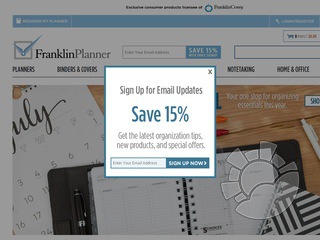 We currently have 10 Franklin Planner coupons / deals including 7 promo codes.
About Franklin Covey
What is your New Year's resolution year after year? Maybe it is to clean up your house, maybe it's to get better organized, or maybe it's just to spend more time doing the things that you love. If this sounds like you, you definitely have to check out FranklinCovey.com. This website will not only give you the tools to get organized, but also help you step-by-step in the process.
Franklin Covey doesn't just sell calendars and day planners for people who want to get their lives back on track; they also provide a lot of useful information. At www.franklincovey.com, you can find the gear that you need to get everything in the right place. For example, you can purchase paper and electronic planners, business cases, books and audio CDs, and software, all of which are designed to keep you organized.
Read more...
You probably have heard of the book "The Seven Habits of Highly Effective People," and if you remember that the author is Stephen Covey, you'll probably realize that this online organizational site can help you get organized in the workplace as well. You can find out information about getting someone from their company to come and talk to you and your employees on how they can increase their time management and make their lives happier at the same time.
Maybe you're just trying to get yourself organized; the education that they provide will be a good first step. In the library area of the www.franklincovey.com website, you can find quizzes, articles, and other features that will help you to save time at work and at home. What's interesting is that these articles and quizzes can help everybody: housewives, students, CEOs and secretaries.
Life is too short to spend it unfocused and unorganized. If you want to get organized, FranklinCovey is the place to come. You can get the tools, information, and encouragement all in one place.
Close