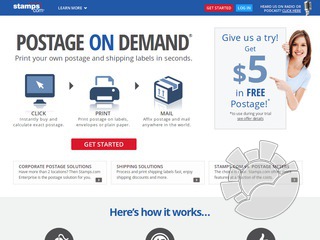 We currently have 2 Stamps.com coupons / deals including 1 promo code.
About Stamps
Every time you go to the post office it seems as if they only have two windows open, everyone in front of you is sending packages to Timbuktu and there are about 10 people in each line. It's such a pain, especially since there is an easier way to get your mail sent. That easier way is www.stamps.com.
At Stamps.com, you can print your own postage, and once you are a member, you will never stand in line at the post office again. It doesn't matter if you are sending letters, postcards, packages or anything else, you will never have to go down to the post office again, unless, of course, you want to. If you are a business owner, you won't have to pay one of your employees to drive down to the post office, wait in line, and then drive back. Inf act, at the www.stamps.com website you can calculate exactly how much time and money you're wasting by going to the post office instead of using their service.
Read more...
Stamps .com is perfect for business owners, busy individuals, or smart entrepreneurs. Unlike other home postal services that have high fees, this one offers you the ability to print your own postage from a regular printer, offers a digital scale rental free when you sign up and has low monthly subscription prices. Unlike with a postage meter, if the rates of postage change (which it seems like it does every year), you won't have to pay to get your meter adjusted.
While you're printing up your own postage, you can also print the addresses on the envelope. This will save you time because once you do it, you can to save it to your computer and always have the address ready to print. It will look a lot neater and more professional. If you're looking for a new way to send your mail, or if you've been sending mail the old fashioned way by standing in line for too long, there is an easier way to do it; www.stamps.com is that way.
Close