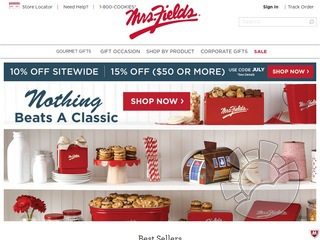 We currently have 1 Mrs. Fields Cookies coupon / deal.
About MrsFields.com
When you think gourmet, home-style cookies and brownies, chances are you think of one name: Mrs. Fields. Founded by (you guessed who), Debbie Fields, the very first MrsField's store opened for business in 1977. Now, there are almost 400 stores in the US and over 80 internationally.
In the online store, you can shop in three ways: by price, occasion or product. Prices start from just $25, making these treats affordable gifts. Occasions to shop for include Christmas, birthday, new baby and anniversary, just to name a few, and when it comes to products—wow! There are just so many products you can choose from. To give you some idea, you can choose from Mrs Field's cookies, decorated cookie cakes, gourmet cakes, brownies, chocolate collection, flower bouquets, gourmet fruit and gourmet popcorn and nuts.
Read more...
To make your gift that extra special, you can add a teddy bear. Check out the online catalog via the website, or request one be mailed to you. It is just that easy.
MrsFields.com also welcomes corporate orders and gifts can be personalized, so check out the details on the website regarding those.
Order with ease, and know that delivery is fast. Canada and international shipping is also available, and orders can be tracked online.
Create your own free account with www.mrsfields.com, and access your order histories, manage your recipients, and receive special offers and discounts. You can even discover great recipes via the website.
Close