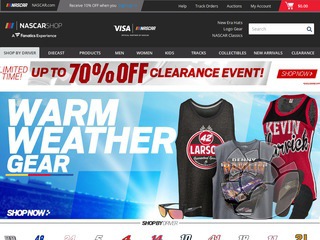 We currently have 2 Nascar Superstore coupons / deals.
About Nascar.com
Drivers (and fans) start your engines... Everything you need for the next race day is available at store.nascar.com. Everything NASCAR related is available here, from clothing and hats to collectibles, equipment, die casts, tickets, photos, art and autographs.
Finding what you need is really easy at NASCAR's store. If you follow a particular driver, you can easily search for them, giving you everything you need to show your support. Maybe you are looking for a retired driver. Don't worry; you'll be able to find the legends as well.
Read more...
If you have a collection of hats (or t-shirts, autographs or almost anything else) you can easily browse for one specific item. You won't have to browse through things that aren't in your collection to find what you want.
One unique feature at the Nascar.com store website is the ability to bid for what you want. If you've had your eye on an autographed Dale Earnhardt Jr. replica of a favorite car, you can get it for a great price by bidding on it. With a little luck, you can have even the rarest or hottest pieces in your collection.
Another way to shop for a good deal is to look at the outlet, which gives extra savings on some really great products.
To keep on top of the latest news, come back to check out the website all the time. You'll be the first of your friends to know which of the latest gear is now available and hear about NASCAR news. It will be delivered straight to your inbox, so you will have all the information in a convenient place.
The next race day you can be prepared to cheer for your favorite team by visiting www.nascar.com, the place to buy all the licensed racing merchandise that you need to look like a true fan.
Close