Nokia Store Closed
Nokia used to operate an online store at Nokia.com that sold a variety of products, but these days the site is informational only. There are plenty of other online stores that sell Nokia cell phones and other products, and you can find them in our Cell Phone Coupons department. Also, Microsoft Mobile took over Nokia's Windows Phone business, so if you want a new Microsoft Lumia smartphone, see our Microsoft Coupons page for potential discounts.
Nokia Coupons & Promo Codes
There are no Nokia coupons available at this time.
Related Categories
Phones & Wireless
Related Coupons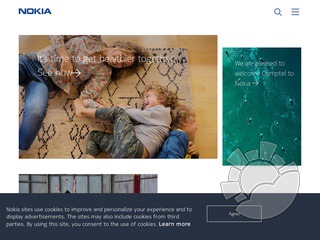 About Nokia.com
Nokia Corporation is an enormous multinational corporation that produces information technology and consumer electronics. As of 2016, they have over 100,000 employees spread across over 100 countries. They were founded in 1865, and during their long history they have been involved in a variety of industries.
Most consumers associate Nokia with cell phones, because they used to dominate the industry as the largest seller of mobile phones in the world. They were also involved in the development of important wireless standards including GSM, 3G and LTE. After losing market share they eventually partnered with Microsoft to focus on Windows Phones. Then in 2014 they sold their mobile phone business to Microsoft, who made it a wholly own subsidiary called Microsoft Mobile.
Read more...
Now Nokia is back in the cell phone business again, this time making Android smartphones. They no longer have the Lumia brand, as those phones are still with Microsoft Mobile.
Close