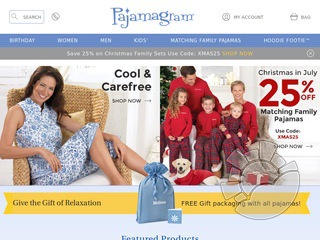 We currently have 1 PajamaGram coupon / deal.
About PajamaGram.com
If you're looking for a unique gift for a loved one or friend, www.PajamaGram.com should be your first stop. They offer the most adorable, thoughtful all-in-one gifts of pajamas and accessories, all delivered right to your doorstep.
Every PajamaGram is sent with luxurious, comfy PJs, a personalized card, and a lavender sachet, bundled up in a unique gift box. Whether you're shopping for your girlfriend, sister, mother, or special friend, when you choose to send them a PajamaGram, you're sending something they'll cherish for years.
Read more...
They sell pyjamas for every type of person including men, women, and children, and offer them in a variety of sizes and styles. And they run specials for important holidays like Valentine's Day and Christmas. From the online store, you can also order all kinds of gifts to pamper such as candles, sachets, chocolates and even night lights.
They carry a wide variety of bath and body products, too. This includes specialized, unique products you can't find in department stores. From bath "roses", to lotions, to even french manicure sets, PajamaGram has it all. And don't forget to check out their line of plush, comfortable slippers and robes, to complete any man or woman's intimate wardrobe.
Close