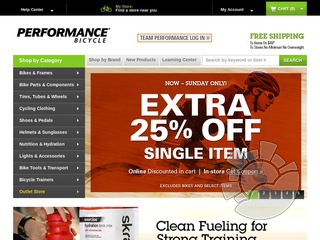 We currently have 3 Performance Bike coupons / deals.
About Performance Bike
In 1981, Garry Snook and his wife, Sharon, did something daring. They started a business. A bicycle catalog company. They used their life savings. Sharon came up with the name Performance Bicycle and it focused on great products at great prices. All of the customer's bicycle needs under one roof. It is a simple premise, but one that is focused on customers. Now, over 30 years later, they are still delivering great products at great prices. In fact, they are the No.1 specialty bicycle retailer in the U.S. with a network of more than 100 stores nationwide plus PerformanceBike.com, where you can get your needs met online. They are the number one bike resource anywhere. It is a well deserved success story, for Garry and Sharon and for customers everywhere.