Shop 4 Tech Coupons & Promo Codes
Use this page of Shop4Tech coupons for deals on Blu-ray, DVD, and CD media, printer ink, toner cartridges, computer accessories, office products, electronics, and more. Shop4Tech.com is a place to buy computers and electronics such as CDRs, DVDRs, memory cards and ink cartridges, with a specialty for blank CD/DVD/Blu-ray media and duplication machines. Simply click on the desired shop4tech coupon offer below to see details on the promotion on the Shop4tech.com site.
Related Categories
Computers
Office Supplies
Related Coupons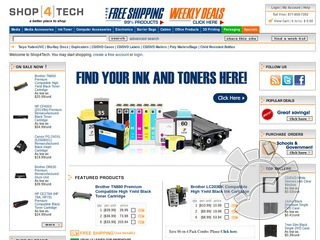 We currently have 2 Shop 4 Tech coupons / deals.
About Shop4Tech.com
Today's digital applications—whether music, video, photos, or data—demand serious storage solutions. Since 1999, Shop4tech.com has been offering typically costly optical storage and media at a hefty discount and with free shipping to industry, businesses and even individual users.
Although optical media is constantly evolving, www.shop4tech.com always carries the latest formats, such as Blu-ray, as well as familiar media, including CD-R, CD-RW, DVD+R, DVD+RW, DVD-R, DVD-RW, DVD-RAM, dual layer discs, lightscribe enabled media, DLT and LTO tape cartridges and mini DV tapes.
Read more...
The site also offers an endless array of cases and housing solutions to store, ship and organize bulk discs. Customers will find bubble mailers, plastic cases, folders, hubs, inserts, jewel cases, labeling systems, repair kits, sleeves, visors and wallets.
A complete range of internal and external DVD burners and USB enclosures ensure that both laptops and desktops can take advantage of the latest disc formats. Standalone duplicators are dedicated to swiftly pressing products without a computer. CD and DVD printers can effortlessly produce professional results. Mac users will appreciate a special section outlining compatible products.
The site also offers a full range of digital media, camera accessories and computer peripherals, including hard drives, components, monitors, networking accessories, flash cards, batteries, software, power supplies and printer ink. Customers can complete their setups with offerings as diverse as iPods, satellite radio, video games, and office chairs and workstations, all competitively priced.
Shop 4 Tech sells computer and electronics products. They specialize in CD and DVD drives and CDR, CDRW, DVDR and DVDRW media. Shop4tech.com also sells inkjet cartridges, cell phone accessories, and flash memory cards. Also, free shipping is available on many items at Shop4Tech.
Close