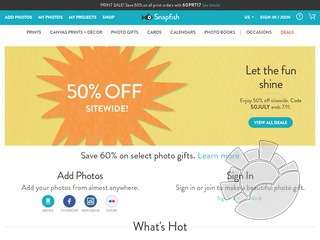 We currently have 1 Snapfish.com coupon / deal.
About Snapfish
Snapfish is one of the web's leading online photo services, offering its customers low-cost printing options for digital and film printing, as well as free storage space, online photo manipulation and much more. They enable their members to print, store and share photos for a price that's well below the competition.
If you need physical prints from your digital photos, simply upload the photos you'd like printed, select the size of print you'd like, and fill out the address and payment form. Snap Fish will send your photos directly to your doorstep, for a fraction of the cost that most online and traditional film printers charge. Or, if you'd like your roll of film developed, simply enclose the roll in an envelope, fill out the order slip and send it in. They'll return your developed roll of film and prints within days.
Read more...
At www.snapfish.com they also offer great storage abilities for as many digital photos as you'd like to save. Take advantage of their great picture manipulation, where you can adjust brightness, contrast, and even crop your photos. Then, share them with your friends and family easily.
They also offer great gift printing options, where you can directly transfer your favorite photos to items like calendars, mugs, notebooks and mousepads, and then give them as gifts to your loved ones.
Close