Steelcase Store Coupons & Promo Codes
On this page we list available Steelcase Store coupons, discount codes, promotions and free shipping offers for Steelcase.com. These will help your company save, and there is also information so you can learn more about Steelcase chairs and why the official online Steelcase Store is a great place to buy office chairs and other furniture for your business. They have a handy chair comparison tool to make it easy to find the right one based on price, rating, upholstery, weight capacity, and other features.
When shopping for your corporation, small business or home office, remember to visit this site. DailyeDeals lists many different online discounts, coupon codes, promotions and special offers to help you save.
Usually there is no keycode to worry about, so just clicking the link allows you to access the described offer. When we do list a coupon code in the table above, make sure to enter it in your shopping cart at store.steelcase.com before completing the purchase process.
Related Categories
Furniture
Office Supplies
Related Coupons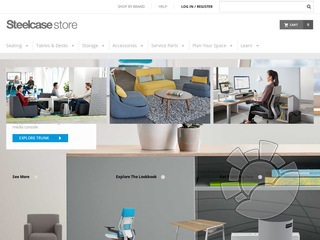 We currently have 4 Steelcase Store coupons / deals.
About Steelcase.com
Originally founded in 1912 as The Metal Office Furniture Company, Steelcase has grown from a specialized retailer of safes, filing cabinets, and steel wastebaskets to supplying a variety of furniture, technology, and interior architecture related merchandise. The Steelcase Store features products not only from Steelcase, but also from Turnstone, Details, and Nurture.
An environmentally conscious business, Steelcase boasts the first manufacturing plant to receive the U.S. Green Building Council's LEED Certification for Environmental Excellence. More recently, in 2008, this company committed to purchasing all of the green power produced by a U.S. wind farm for at least five years. The hope is that this commitment will influence innovators and companies to find ways to reduce American reliance on fossil fuels.
Read more...
Steelcase.com makes it easy for customers to find and purchase advanced performance work furniture, including ergonomic office chairs, keyboard supports, conference tables, task lights, and flat panel arms. They offer quality design, exceptional comfort, and shopping convenience. Their top sellers include the trusted product lines Leap, Think, Amina, Uno, Home Habitat, Airtouch, and Crushed Can. Steel Case allows you to choose the perfect chair to suit your needs, from a simple stool to a complete, luxurious lounge.
The company carries high-performance and multi-use chairs as well. Additionally, they stock tables and desks for the home or office. Whether you need an endtable, a stunning desk suite, a conference table, or a coffee table, store.steelcase.com has you covered. Missing a piece? Find parts for your furniture, whether you need something for last week's or last month's model. Get organized with Steelcases laminate storage mobile pedestal, which easily rolls with five casters, or purchase worktools for greater productivity and ergonomics. You can also click on Collections to browse the company's most popular settings for the small office, home office, café space, tour space, conference space, or informal space. Steelcase.com will even deliver, install, and remove all of the packaging for your collections. Quantity discounts and free shipping are available.
Close