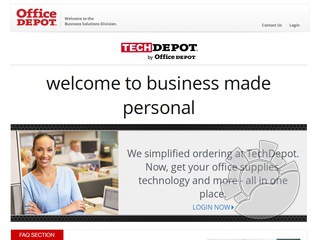 About TechDepot.com
Office Depot, one of America's most trusted name in office supplies, offers a huge selection of computers, accessories, cameras, electronics and other technological gadgetry directly online at techdepot.com. Customers can buy with the confidence of a money back guarantee and consistently competitive low prices.
Tech Depot makes enhancing new and old computer setups simple. Advanced search tools help even amateur computer users locate the correct memory, supplies, components and peripherals to augment or upgrade their desktops, notebooks and PDAs. Hobbyists can build computers from scratch with available CPUs, motherboards, power supplies and graphics cards.
Read more...
Customers can purchase manufactured PC from Sony, Acer, IBM, and Gateway, or custom configure Toshiba notebooks and HP desktops to better meet their needs.
Browsing inventory makes finding the latest printers, PDAs, software, hard drives, flash cards, networking equipment, cabling and MAC compatible devices easy. Electronics enthusiasts will discover the latest MP3 players, HD-DVD players, plasma TVs, XBOX video games, GPS gear, home theater equipment, DVD recorders and Blu-ray players.
Capture life's beauty with countless compact and digital SLR cameras from Canon, Sony, Nikon, Olympus and Fuji, as well as camcorders at blowout prices. Photo printers, ink and accessories are always priced to move.
A clearance center is regularly updated with open-box specials, limited supply items and certified reconditioned merchandise at a deep discount. Shipping is always prompt and economical.
Close