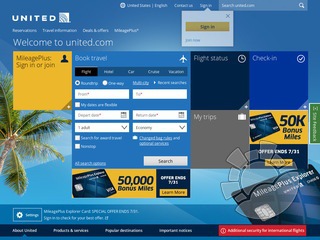 We currently have 2 United Airlines coupons / deals.
About United.com
The next time you want to go somewhere, forget about driving there. Instead, head over to the United Airlines website and find great fares for your next trip. On an average day, United Air Lines operates over 3,600 flights a day to over 200 destinations around the U.S. and abroad.
At the www.united.com web site, you can plan and book your airfare. Unlike with other sites, you'll never pay a booking fee with UnitedAirlines.com. Plus, booking a reservation online for airfare is easy to do, and you can get a clear picture of your options on different flights you could take before you make your reservations.
Read more...
Once you've bought your tickets, you can keep all of your itineraries online, which will allow you to access them at any computer you are at. At United.com, you can also check in for your flight, avoiding long lines at the check in counters. It's simple to do, and will get your vacation or business trip off to a good start.
If you have frequent flier miles, you can find out how to earn more miles, manage your account and redeem them online. This makes saving up for and taking a free trip easy to do.
If you have a question about baggage allowances, how early you have to check in, what you can carry on the plane with you, ways to contact their customer service center or find out what routes this airlines flies, you can do this all online. It makes shopping for an airline or a flight easy to do and is very comfortable. You can find the information that you need in the middle of the night, easily and quickly. The next time you are looking for a flight within the United States or abroad, look at the United.com website.
Close