Western Warehouse Closed
Western Warehouse closed in 2008 after parent company BTWW (who also owned Boot Town) filed for bankrupcy. Boot Barn acquired some of the stores as well as the WesternWarehouse.com domain. While you cannot shop at WesternWarehouse.com any more, you can still shop at BootBarn.com. Save on your western ware purchases by using our Boot Barn Coupons.
Western Warehouse Coupons & Promo Codes
There are no Western Warehouse coupons available at this time.
Related Categories
Apparel
Apparel Accessories
Men's Apparel
Shoes
Women's Apparel
Work Uniforms
Related Coupons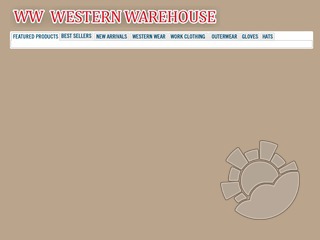 About Western Warehouse
Western Warehouse is a chain of western-themed retail stores, and WesternWarehouse.com is their online store. While a Yankee can shop there for a cowboy hat and cowboy boots, they have all kinds of genuine western clothing, footwear, hats, and accessories for men, ladies, boys, and girls.
BTWW Retail, the company that owns WesterWarehouse, also operates Boot Town, Corral West Ranchwear, Sergeant's Western World, and Workwear Depot.