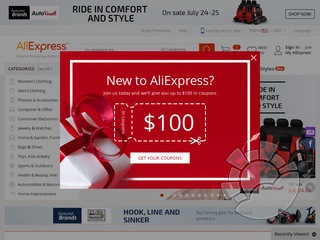 We currently have 3 AliExpress coupons / deals.
About AliExpress.com
AliExpress.com is a name that more and more people are getting to know. It was launched in 2010 and has grown quite a lot since then. It is comprised of mostly small Chinese businesses offering products to international online buyers and is owned by Alibaba. It is the most visited e-commerce website in Russia and was the 10th most popular website in Brazil as well, so their impact is worldwide. It is a platform that allows small businesses in China to sell to customers all over the world. You can find just about anything on the website. The sellers are independent, allowing consumers to find them. They offer safe payment, competitive prices and a huge selection of items. Ali Express customers can also get 24/7 assistance if they need help.