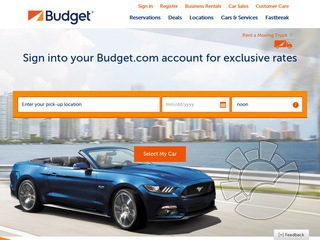 We currently have 3 Budget Rent a Car coupons / deals.
About Budget Car Rental
Need to rent a car? No problem! At Budget.com, you can rent a car in 60 seconds. After four easy steps, you will be ready to pick up your car at one of their many locations.
How many Budget locations are there? There are over 1,900 places where you can get a rental car around the world. Not only in every major city across the United States, but also in foreign countries, including Honduras, Japan, Holland, Tunisia and more. There are Budget Rent-a-Car locations on 6 continents, so wherever you go on your vacation or business trip, you can find a vehicle.
Read more...
60 seconds is all that it takes to rent a car at www.budget.com. First select the dates you want, and where you are going to pick it up. Then choose the rate. This step is easy, because there is a picture of all the possible types of cars, so if you need something large to haul your whole family around, you can find it in seconds. The third step is to choose any extras that you want, including car seats or insurance. You can even choose between a smoking and non-smoking car, so you will be as comfortable as possible. Finally, just enter some basic contact information and you are finished.
If you plan on renting a lot of cars, you can join the Budget Rental Fastbreak program. This will allow you to pick up your car faster once you reserved it. It will remember your vehicle and option preferences, making it faster to reserve a car as well. When you get to the counter, all of your payment and rental information will ready, so you won't have to stand around waiting.
They don't just rent cars, you can also rent moving trucks in some locations, making moving day easy and inexpensive. Maybe you want a cool car for a Saturday. Renting a specialty car, like a convertible or Hummer will make an impression. Budget.com gives you the options you need to keep your holiday, business trip, or weekend around the town a lot easier.
Close