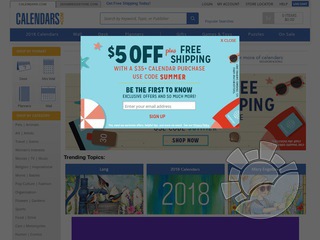 We currently have 2 Calendars.com coupons / deals including 1 promo code.
About Calendars
Calendars.com offers an amazing selection of games, toys, puzzles, and gifts. Through its parent company Go! Retail Group, it was founded in 1999.They have the largest selection of calendars anywhere. Calendars.com has over 17,000 products online, which means that buying gifts for others or for yourself is easy. Their selection grows every year.
You'll find calendars from artists like Charles Wysocki, Thomas Kinkade, Mary Engelbreit, Linda Nelson Stocks, Lowell Herrero and many more. Also musicians like Taylor Swift, One Direction, Beatles, Elvis Presley, Justin Bieber, 5 Seconds of Summer, 2Pac, Ed Sheeran, Jason Aldean, John Lennon and more. The company has over 65 licensed versions of toys and games brands like The Walking Dead, Big Bang Theory, The Hobbit, The Legend of Zelda and more. They are more than just calendars and they make shopping easy and hassle free.