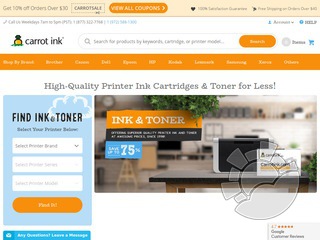 We currently have 6 Carrot Ink coupons / deals including 2 promo codes.
About CarrotInk.com
A printer makes a marvelous addition to any computer setup. While high quality printers are inexpensive, the replacement ink cartridges not only dissipate quickly, but can often cost more than the printer itself. Luckily, Carrot Ink offers affordable inkjet cartridge solutions.
Since 1998 Carrotink.com has been offering compatible remanufactured ink jet and laser toner cartridges for 30-70% less than competing name brand versions. CarrotInk's toner and ink cartridges not only create printouts that rival or exceed costlier conventional cartridges, but come with a 100% no questions asked satisfaction guarantee.
Read more...
In addition to stocking an array of popular ink jet and laser toner cartridge brands, including Apple, Brother, Canon, Epson, Dell, HP, Lexmark, Samsung, Xerox and others, www.carrotink.com also offers standard inkjet paper and photo paper in a variety of glossy and matte finishes. Business and home office customers will appreciate the extensive thermal fax film cartridge and refill roll selection for Brother, Panasonic and Sharp fax machines.
An easy to follow search tool helps even novice users locate the correct printer cartridge in three easy steps. Shipping is inexpensive and most orders are shipped out the same day. Economical express shipping methods are available, which is particularly useful when cartridges run out unexpectedly.
For added savings, deeply discounted do-it-your-self refill kits allow users to replenish their own cartridges by following simple instructions. This online store also caters to the cautious consumer by offering standard name brand cartridges for less than the manufactured suggested retail price. The online chat and toll-free telephone support ensure that you can buy confidently.
Close