Cheryl's Cookies Coupons & Promo Codes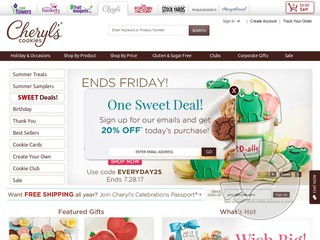 We currently have 4 Cheryl's Cookies coupons / deals including 1 promo code.
About Cheryls.com
Cheryls.com knows cookies. Here you will find all kinds of treats for all occasions. In 1981, Cheryl Krueger and her college roommate, Caryl Walker, opened the first Cheryl's Cookies in Columbus, Ohio. It sold six kinds of cookies. Soon after, the company broadened also sold gifts and desserts. In 2005 the company merged with the 1-800-Flowers Family of Brands. Today they continue to offer the best gifts, deserts and cookies at great prices. At Cheryls.com you can find gourmet brownies, cakes, fancy cookies of all kinds and more. Their goal is to give you the finest freshly-baked gifts and desserts for all of life's moments, with a guarantee of excellence. That tastes sweet.