GoToMyPC Coupons & Promo Codes
Listed on this page are GoToMyPC promo codes, discount coupons and free trial download offers. Go To My PC has incredible software that allows you to securely and easily access your computer from anywhere in the world. It makes things very convenient when you need to access a document in an emergency, on vacation or from anywhere, so it is really useful for businesses and home offices. Browse the discount coupons and free trial promos below to get deals on this fantastic software.
Just click on the discount promotion to access it, unless there is a promo code with the offer. Then you'll need to copy the promotional key code to the site to get the special discount.
Related Categories
Computers
Internet Services
Related Coupons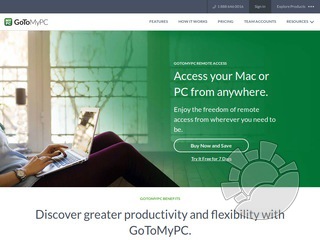 We currently have 1 GoToMyPC coupon / deal.
About Go To My PC
Through the GoToMyPC software, you can safely access your PC from anywhere in the world using any Internet connection and virtually any operating system. They offer programs for single and multiple users to access up to 20 PCs. A program is also available for corporate users. With GoTo MyPC, you can retrieve files and gain entry to your programs, email, and network from any location. The software enables you to increase your flexibility and productivity by working on your office computer from home or traveling and accessing your personal computer remotely.
Read more...
In 2006, PC World named GoToMyPC one of the 100 best products of the year. You can get a free trial of the system on the website. Their program is easy to use: just download the software and the two-minute automatic setup will follow. Then, when you need to privately and securely access your computer from another location, log in to www.gotomypc.com, click on connect, and your very own desktop will appear right in front of you, even if you're halfway across the world! You'll gain instant productivity as you begin working on your own desktop as if your personal computer were right in front of you. You can remotely print documents on the printer where you happen to be, and you can synchronize files and folders from one PC to another with a simple click of the mouse. Go To My PC is designed to ensure maximum security, as well as outstanding performance and reliability. Your privacy is protected by encryption, firewalls, and other security features.
Software like this is really useful for businesses and home offices. Come to DailyeDeals for discounts on computer software, office supplies, business furniture and everything else you need to enhance and maintain your productivity.
Close